Weaving brings my artistic vision to reality. My fabrics integrate colorful arrays with proprietary designs only available from complex patterns. I spend a lot of time designing so the careful placement of color within the patterns creates a complementary end result.  It's important that the weave pattern and the warp colors align in a harmonious conclusion. Like a pointillist painter, I create pieces that delight from afar yet reveal new intricacies upon closer inspection.
To me, weaving recalls a simpler time, free from excessive waste & the churn from the 'fast fashion' mindset. By appreciating the time taken to create handcrafted items, we can bring calm as well as beauty into our stressful lives.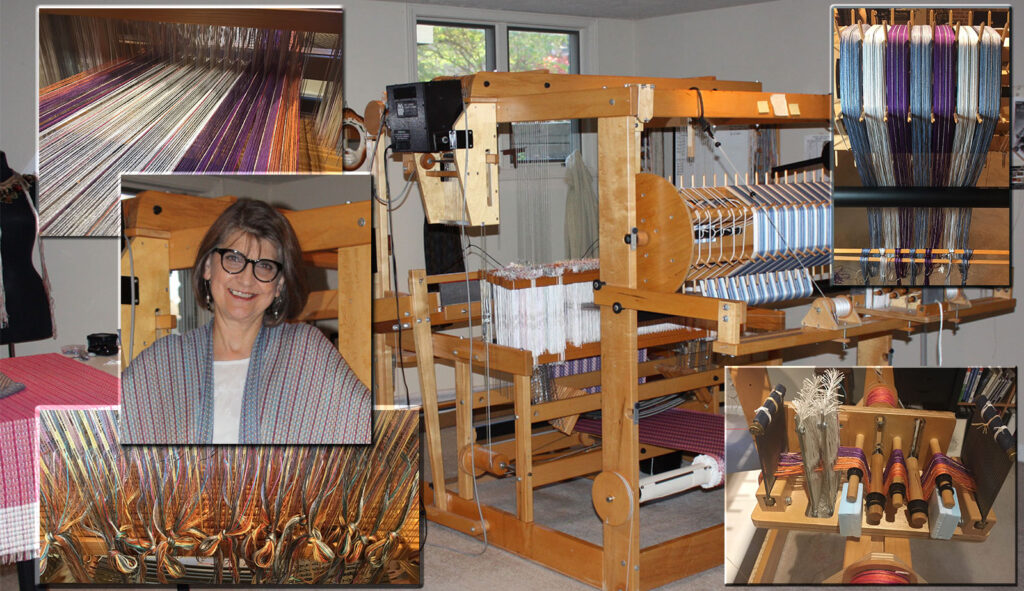 All my wearables are handwoven with sustainable alpaca, bamboo & silk yarns that create surprisingly lightweight items with an exquisite drape & hand. I use 2 AVL Compu-Dobby looms to create my fabrics. Most pieces are woven with very fine yarns that produce a luxurious fabric that feels scrumptious, doesn't wrinkle and drapes smoothly around your body.
My artwork is created by upcycling fabric swatches and samples from my wearable warps.  I use fabrics as other artists use paints or inks, combining different patterns and colors into a kaleidoscopic piece.  Several of my collages are inspired by my concern for our planet's health, something that the fashion industry has been guilty of damaging for quite a while.  Others reflect elements of nature or everyday life images.
As much as I enjoy weaving, I also enjoy sharing my passion and knowledge with anyone interested in the process.  As an Associate Professor in a Fashion Design program, I taught young designers about woven structures, CAD design, and marketing.  It's important to me that weaving remains vibrant and vital to future generations and doesn't become a 'lost art'. 
I welcome any questions regarding weaving, fabric care and sustainability – feel free to contact me! 
Check out these videos
to see all the steps involved in
hand weaving my fabrics.
Follow me on Instagram @constancewcollins